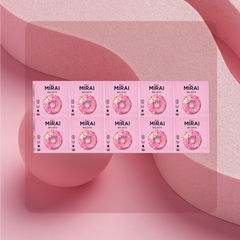 Condom Mirai Big Dots 20 Packs @3 Pcs - Larger and Wider Dotted Texture
Regular price
Rp 198.000,00
Mirai Big Dots is an innovation of the Mirai condom product with a wider, larger, and more prominent dot texture along the condom compared to other dotted condom types. Mirai Big Dots has a smooth dot texture that can help provide stimulation and increase the intensity of satisfaction during sex.
Mirai Big Dots is also equipped with silicon oil-based lubricant and bubble gum aroma that can enhance your sex mood with your partner.
Product Features:
- Made from natural latex base
- Rocket-shaped condom with wider, larger, and more prominent dot texture (Big Dotted)
- Contains silicon oil lubricant
- Has a bubble gum aroma
- Has a nominal width of 52 mm and nominal length of 170 mm
Notes:
Your privacy is our priority, the packaging will be neatly packed so that its contents are not visible, and we will only include the sender's data on the package, and the package will be referred to as herbal.
Storage Method: Store in a cool and dry place, away from the reach of children
Packaging: 1 Box = 20 Packs @3 Pcs
Brand: Mirai
Produced By : Dongyang Songpu Latex (Jinzhou) Co., Ltd
BPOM Number : AKL 21104129006

Condom Mirai Big Dots 20 Packs @3 Pcs - Larger and Wider Dotted Texture
Regular price
Rp 198.000,00