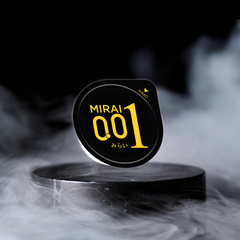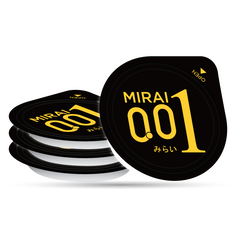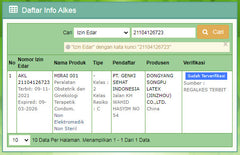 Mirai Condom 001 1 Pc - Extra Thin Condom
Regular price
Rp 5.000,00
Mirai 0.01 is an innovation of extra thin condoms with a thickness of 0.01 mm that can provide a sensation of not using a condom. Mirai 0.01 is made of natural latex that is elastic and not easily damaged or leaked. Although it is very thin, the condom still provides safe protection against leaks.
Explanation:
- Extra thin condom with a thickness of only 0.01 mm
- The latest innovation with Hyaluronic Acid lube
- Has a sweet Ice Cream scent
- Available in packs of 1, 3, and 10
Mirai 0.01 is also equipped with natural Hyaluronic Acid-based lubricant that is more moisturizing and safe for the skin. With a sweet Ice Cream scent, it can help enhance mood during intimacy with a partner. 
Product Features:
- Made from Natural Latex material
- Extremely thin 0.01 mm but still elastic and not easily damaged / leaked
- Contains Natural Hyaluronic Acid lubricant
- Scented with Ice Cream
- Transparent condom shape with a pointed tip
- Has a nominal width of 52 mm and a nominal length of 170 mm
Notes:
Your privacy is our priority, for packaging we will pack neatly so that the contents are not visible, and we will only include sender data on the package, for the package we will inform as herbal.
Storage: Store in a cool place and avoid direct sunlight
Packaging: Pack of 1 Pc
Produced by: Dongyang Songpu Latex (Jinzhou) Co., Ltd
BPOM No: AKL 21104126723

Mirai Condom 001 1 Pc - Extra Thin Condom
Regular price
Rp 5.000,00